Professional Fire Damage Cleanup Contractors
Fire emergencies can be especially scary, and extremely devastating to the property. Rapid response times are extremely important when dealing with fire emergencies to prevent further damage to your property, that's why our fire damage restoration specialists are ready  24/7 to support you when you really need it. As soon as you contact us to report your fire damage emergency our team will be prepared and dispatched to arrive at your location within 1 hour.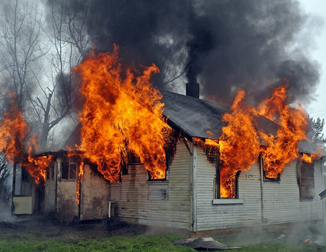 Preferred Water Damage is here to help you in every step of the fire damage cleanup process, whether it be fire and smoke cleanup or water damage cleanup from firefighting efforts, our expert team is trained to handle any situation.

What It Takes To
Remove fire Damage In five Steps
Fire Damage emergencies naturally have a wide potential scope, ranging from topical cleanup to complete structural rebuilds.  Here's a step-by-step guide on how we promptly handle emergencies with the aim of reducing as much hazard and loss as possible:

Immediate fire Damage Tips
What to DO after you've experienced a fire
Call Preferred Water Damage immediately for prompt cleanup to avoid more loss and damage.
Air out your home. Higher temperatures than 60 degrees need to be cooled by opening doors and windows.
Wipe down Formica, chrome, porcelain, and aluminum fixtures
Replace the hot air filter furnaces.
Cover all vents with damp cheesecloth to filter soot from the air.
Throw away open food containers.
With your power off, thoroughly clean your refrigerator.
Remove all personal items possible from the property.
What NOT TO DO after you've experienced a fire
DO NOT come into contact with anything like natural oils in your hands as this will cause further damage.
DO NOT clean walls covered with soot as washing worsens the damage.
DO NOT wash your carpets or upholstery.
DO NOT use electrical appliances yet, have them checked first for safety.
DO NOT use ceiling fixtures when the ceiling is wet.
CONTACT US
GET A FREE inspection